BIOGRAPHY
---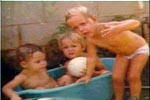 Gabriela Elena Spanic Utrera was born on December 10, 1973 in Ortiz, State of Guárico, Venezuela. Her grandparents and her father were born in Croatia. They moved to Venezuela in 1947. Gabriela has twin sister Daniela, brother Antonio and younger sister Patricia. She was married to the actor Miguel de León, whom she met during the filming of soap opera "Como Tú Ninguna".

Gabriela grew in the country, far from the hustle and bustle of the city. As a child, she dreamt of being a ballerina, but later she became increasingly interested in acting. At the beginning, her parents weren't delighted with her decision. However, they realised very soon that they couldn't stop her in her intent to become an actress. Gaby appeared in soap operas when she was still an adolescent. Even the fact that she served only for a decoration and that she got small parts with no text didn't take her off her dreams. She knew that only physical aspect and the participation in beauty competitions could open her the road toward main roles in soap operas. Therefor, she made a very strict diet and lost about 25 kilos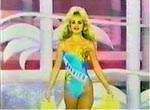 in a short time. In 1992, she participated in the contest for "Miss Venezuela" representing the State of Guárico and obtained the title of "Miss Venezuela International". After that competition, she began working as a professional model (1993).

Gabriela was studying a psychology one year, alternating this with acting classes at the Luz Columba Theatre Research Centre directed by Nelson Ortega. Later, she also completed different courses of professional improvement at the Training Centre of Professionals Communication, which is a part of Diego Cisneros Organisation, and in the Free Workshop for the Actor. She took special courses at Herman Institute for professional models.

Gaby's dreams came true with her first role in the soap opera "Divina Obsesión" (1992). In the soap opera "Morena Clara" (1993), she demonstrated her extraordinary abilities as an actress with the role of malicious Linda Prado that led her to her first leading role in "Como Tú Ninguna" (1995). This production obtained the highest rating in last few years in Venezuela and it has been sold to more than 80 countries and translated into several languages. The soap opera "Quirpa De Tres Mujeres" (1996) reaffirmed her histrionics qualities that she emphasised with her role of young Emiliana. In "Todo Por Tu Amor" (1997) she demonstrated that she is a versatile actress in the drama and in the comedy with her role of Amaranta. Those two soap operas just confirmed that Gabriela was well on the road to success.
Further confirmation came with the soap opera "La usurpadora" (1998), the first that she recorded for Televisa, México. The soap opera w
as sold to more than 150 countries and translated into more than 25 languages. "La Usurpadora" obtained the highest rating at Mexican television in last few years and the highest rating ever in United States. In 1999 Gaby recorded her second soap opera for Televisa, "Por tu amor", with Sául Lisazo as a partner. The story about Cielo, a proud and resolute young woman, and Marco, a mysterious millionaire, obtained a good rating according to Televisa's rating scale, but media marked it as a failure. Anyhow, "Por tu amor" obtained much better rating in other countries. In October 2001 Gaby completed recordings of her third soap opera for Televisa, "La Intrusa". The story about two families, Junquera and Roldán, about love and hatreds, the story full of secrets and intrigues also obtained a good rating, but media were even more pitiless this time. According to unofficial information "La Intrusa" was sold to 120 countries so far.
With this soap opera Gaby has concluded her exclusive contract with Televisa and as they did not reach an agreement she decided to put aside her desire to become a mother for a while and to accept the invitation to record a soap opera "La Venganza", which is based on the original story of Venezuelan Humberto Kiko Olivieri and produced by Colombian RTI and co-produced by the television network Caracol Colombia and the Hispanic chain Telemundo.
Gaby has signed a three-year exclusive contract with Telemundo (2003) for two soap operas and a movie..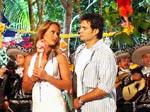 . The first soap is "Prisionera" (2004), the story of a powerful love separated by a terrible secret, which is another great original production of Telemundo in association with RTI.
During the filming of "Prisionera" Gaby has found a time to complet another project - "Gaby 2005 Total"! - a Calender 2005, a DVD with interviews, sceens behind camera..., autobiography "MY LIFE BETWEEN LINES", a CD with 10 songs, and a book of recipes. Imediately after completing the filming of "Prisionera" Gaby went to Europe to promote her project. She visited Romania, Slovenia, Serbia, Lituania and Spain (Dec 5 - Dec 20, 2004).

And what is next? "Tierra de Pasiones"!The new soap opera with Sául Lisazo as a partner again! Stay tuned for more news!

---
Home | Biography | Telenovelas | authorisation